NEWS
Watch Lady Gaga Talk Amy Winehouse's Death & Her Own History With Drugs on 'The View'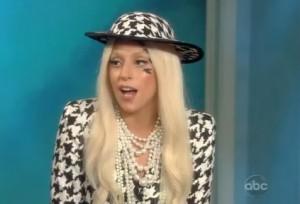 Lady Gaga joined the ladies of The View to discuss a hot topic today and that included a discussion about Amy Winehouse's death and Lady Gaga's personal drug use history.
OK! GALLERY: LADY GAGA KEEPS COOL WHILE WARMING UP FOR JIMMY KIMMEL LIVE
"I'm so devastated and so sad," Lady Gaga explained on The View about Amy's death. "I really couldn't speak for like 48 hours straight. I was in such shock."
But Gaga has a strong opinion about the circumstances of her death.
Article continues below advertisement
"You know, I think the most unfortunate thing about it all is the way the media spins things. Like, here, we can learn from Amy's death. I don't think Amy needed to learn any lessons," she said. "I think the lesson was for the world to be kinder to the superstar. Everybody was so hard on her, and everything that I knew about her was that she was the most lovely and kind woman."
OK! GALLERY: LADY GAGA SHOWS OFF IN SHEER WHILE LEAVING HER WEST HOLLYWOOD HOTEL
Lady Gaga was also asked about her own history with drugs and she was very honest and open about that as well.
"I used to do hard drugs. I was so embarrassed," Gaga explained. "My dad called me out about it one day and so I stopped. I don't do any hard drugs anymore."
"I am a part of the green club sometimes," she confessed. "My dad was like 'I know what you're doing because I did and I lost every friend who ever meant anything to me.'"
Watch a clip of Lady Gaga's interview on The View, below!