NEWS
Watch Lady Gaga's "Judas" Music Video Premiere!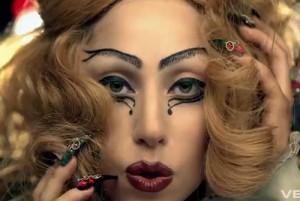 Lady Gaga's hotly-anticipated "Judas" video was released in it's entirety Thursday night, after the singer had been linking snippets of the clip to excite her millions of little monsters. So did "Judas" live up to all the hype?
We're not sure.
"The Cultural Baptism cannot be stopped" Gaga Tweeted along with the full clip of her video which premiered last night on E!.
Gaga has described her new video as a "a motorcycle Fellini film" also saying it portrayed "a betrayal of a prophecy fulfilled."
Article continues below advertisement
E! dubbed the over 5-minute long video as a "Biker Bible Opus."
OK! NEWS: LADY GAGA LANDS GIG AS NEXT AMERICAN IDOL MENTOR
But it does seem like a dance-routine filled pop clip too. The artistry, however, is to be admired.
"THE JUDAS KISS: a betrayal of a prophecy fulfilled?" Gaga Tweeted earlier this week to tease fans, along with the below photo. "Thank you for trending, I'm so honored."
According to MTV News, Gaga plays Mary Magdalene in her new featurette, riding along with "Christ and his apostles," the biker gang wearing studded leather jackets.
The setting? "A a modern-day Jerusalem," according to Gaga with Judas racing ahead of the pack.
The gang stop at an "Electric Chapel," where Gaga attempts to warn Christ — portrayed in an nontraditional manner with cornrows and golden crown of thorns — of the betrayal to come at the hand of his apostles.
We bet the religious powers to be won't be to pleased with Gaga's interpretation. What do you think?