NEWS
Watch Legend Bob Dylan Perform With Mumford & Sons, Avett Brothers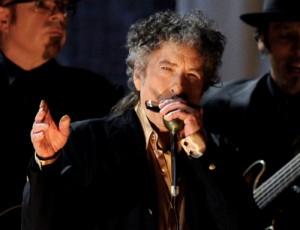 Music legend and 69-year-old Grammy winner Bob Dylan joined the two rising bands in his folk/rock genre — Mumford & Sons and the Avett Brothers — on the Grammy stage, for a moving performance of his classic 1965 "Maggie's Farm." Even though Bobgrunted and growled his way through, the performance was nonetheless moving and an almost magical collaboration.
Mumford and Sons kicked off the performance with their hit "Little Lion Man" followed by the Avetts' "Head Full of Doubt, Road Full of Promise" both delivering incredible vocals.
Article continues below advertisement
While Bob's vocals were inaudible at times, the energy that surrounded the icon was uplifting, as it must have been an incredible experience for the rising stars who surrounded with banjos, guitars and accordions.
Catch the clip below!