NEWS
Watch Maria Shriver's Indirect Jab at Arnold Schwarzenegger on Oprah Winfrey Farewell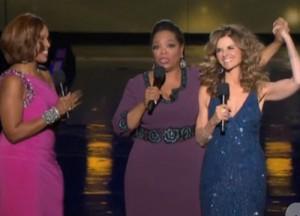 Maria Shriver may be going through a lot in her personal life, but she still made time to fly out to Chicago last week to surprise Oprah Winfrey on a special farewell tribute to the queen of daytime TV. The episode of The Oprah Winfrey Show aired yesterday, but it was taped at the United Center in Chicago the same day news broke that Arnold Schwarzenegger fathered a love child with a former household staffer.
Article continues below advertisement
During the end of the episode, Maria walked out on stage and praised her friend Oprah, saying, "You've given me love, support, wisdom, and most of all... the truth."
Oprah then raised Maria's hand in a strong clasp and screamed out, "Here's to the truth!"
While Maria's comment didn't directly mention Arnold, it seemed to have a deeper meaning behind it. Maybe Oprah was a factor in the truth behind Arnold's indiscretions? Maybe she was just there at the right place and the right time to support her friend.
Maria and Oprah have been close for many years, and the host stood strong next to her pal, keeping her arm tightly around her the entire time. It has been rumored that Maria will get her own show on Oprah's network, OWN
Watch Maria talk about the truth with Oprah at the 40 second minute mark in the clip, via TV Squad, below!
Oprah's best pal Gayle King also addressed Maria's involvement with the show on her talk-radio show.
She explained that it's unbelievable how Oprah is always there when she is needed most.