NEWS
Watch Martina McBride Perform Her New Hit "Teenage Daughters"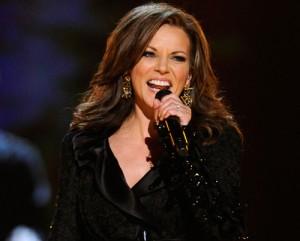 The 2011 Academy of Country Music Awards delivered strong performances from our favorite country crooners! Co-host Reba McEntire introduced her pal Martina McBride, who commanded the stage with her new single "Teenage Daughters." Martina is the proud mom of three girls, so who better to crank out a song about raising teens!
Pictures of Martina's three daughters ran on the big screen behind her as she sang her heart out on stage to the excitement of the crowd!
Article continues below advertisement
OK! VIDEO: WATCH RIHANNA MAKE HER COUNTRY DEBUT WITH JENNIFER NETTLES IN "CALIFORNIA KING BED"!
The same day "Teenage Daughters" hit iTunes on (March 29), Martina's daughter Emma turned 13. Now, Martina is raising two teenage girls, Emma, along with 16-year-old Delaney and the baby of the bunch 5-year-old Ava.
Any parent raising a teen can relate to the lyrics of Martina's song.
"Remember when we used to be / Everything they'd ever need / We had them believing we were cool / It's like it happened over night / We're always wrong / They're always right / We used to be the ones breaking the rules / Now we're just moms / And we're just fathers / Of teenage daughters."
"It's interesting to me that there haven't been other songs written about it, because almost everybody goes through it," Martina told Yahoo's Our Country recently. "I have an awesome relationship with my 16-year-old daughter, but about a year-and-a-half ago, I started noticing a shift," she adds.
OK! NEWS: THE 2011 ACM AWARDS — THE NIGHT'S HIGHLIGHTS & BIG WINNERS!
The country queen's new hit single is currently at 95 on the iTunes charts, but we bet after last night's performance it will skyrocket to the top!