NEWS
Watch Matt Lauer Ride Jim Carrey Like a Horse — "Come On, Little Matty!"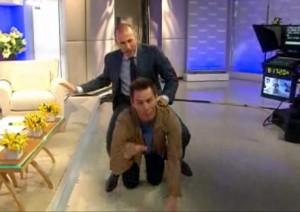 Today Show anchors learned a big lesson today about inviting actor Jim Carrey onto their show. Don't allow Jim into the studio until right before his interview or bad things will happen — like Matt Lauer will try to ride him like a horse.
OK! VIDEO: WATCH JIM CARREY BRING HIS PENGUINS & "A SEXT FROM ANTHONY WEINER" TO THE TONIGHT SHOW
Here's how it went down.
This morning on Today, Matt was discussing a segment on how horseplay with your children is actually beneficial before going to a commercial break. He then mentioned Jim's interview would be coming up and in came Jim on his hands and knees, pretending to be a horse.
Article continues below advertisement
So, what was Matt to do? Hop on his back and ride him — obviously!
"Come on, little Matty! Come on, little Matty!" Jim shouted. "Who's your cowboy? Who's your cowboy? That's a good cowboy!"
Matt joked later in the show, "I can't believe I rode Jim Carrey."
Neither can we!
OK! VIDEO: WATCH JIM CARREY IN MR. POPPERS PENGUINS TRAILER
Watch it in action, below!
Jim also interrupted Natalie Morales at the news desk, before sitting down for an actual interview with Ann Curry. He then chatted about working on Mr. Popper's Penguins and filming with real penguins before switching topics to Anthony Weiner!