NEWS
Watch Matthew Morrison Turn Red Over Footage of "Boys R Us" Gay Band on 'Tonight Show'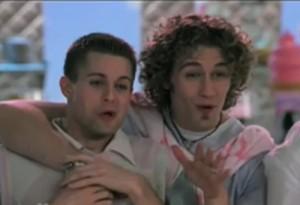 Matthew Morrison did not escape his appearance on the Tonight Show unscathed. Jay Leno loves embarrassing his guests by revealing old footage from "before-they-were-famous" days, and the Glee star's vintage clip was certainly amusing!
Matthew once made a cameo appearance as a member of a gay boy band called "Boys R Us" in Marci X — a flop comedy in 2003 film starring Lisa Kudrow and Damon Wayans.
Article continues below advertisement
"It was the gayest thing I've ever done in my life — literally," the actor explained before the clip, which shows the four band members wearing pastel blues and pinks.
The group can also dance and sing!
Lyrics include, "I really like your smiling face / My beach house has a fireplace / We'll watch reruns of Will & Grace/ And fornicaaaate."
Catch the hilarious clip, via TV Squad, below!
Watch Matthew's full interview on the Tonight Show below!