NEWS
Watch Michelle Obama Do the Dougie to Celebrate Her "Let's Move" Initiative!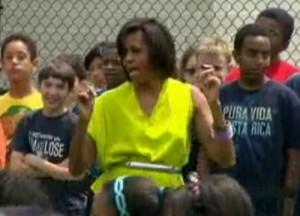 First Lady Michelle Obama doesn't need you to "teach her how to dougie." She already knows how. Not only is she married to the president, the mother to two beautiful daughters, a beloved philanthropist and a style icon, but Michelle has some serious moves!
The First Lady and her toned arms visited Alice Deal Middle School in Tenleytown, Washington, D.C., yesterday, to get students moving as part of her nationwide "Let's Move" initiative.
Article continues below advertisement
Students performed a Beyoncé workout video for Michelle, who couldn't help but join in!
She also showed off her knowledge of "The Dougie" — a danced featured in the video for the song "Teach Me How to Dougie" recorded by hip hop group Cali Swag District.