NEWS
Watch Miss USA 2011 Alyssa Campanella's Coronation!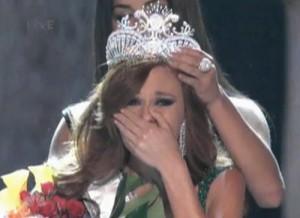 It was a battle between best friends at last night's Miss USA 2011 pageant. Two beauty queens, Miss Tennessee Ashley Durham and Miss California Alyssa Campanella, were the final to standing at the competition, and E! News co-anchor Giuliana Rancic was beside herself with excitement!
Giuliana was co-hosting the event with Bravo TV host Andy Cohen and kept repeating "they're best friends," about the final two contenders.
Article continues below advertisement
OK! EXCLUSIVE: GIULIANA RANCIC FINALLY LIVES MISS USA DREAM
Before announcing the eventual winner, Andy then said the following phrase no less than four more times, leaving the ladies shaking in their heels with anticipation of the big announcement.
"I just want to point out that if, for any reason, the new Miss USA cannot fulfill her duties," he said laughing, "Her best friend, the first runner-up, is going to take over, okay?"
In the end, Miss California, Alyssa, was crowned Miss USA 2011, a bittersweet finale for the pageant queen.
Rima Fakih, the 25-year-old reigning Miss USA, crowned new winner Alyssa at last night's ceremony.
Alyssa was the 2007 first runner-up in the Miss Teen USA pageant.
OK! EXCLUSIVE: MISS USA GETS BIKINI READY WITH PREPARATION H
Next, Alyssa will be heading to the Miss Universe 2011 pageant in September, and we bet her BFF Ashley will be there to cheer her on!