NEWS
Watch MTV Movie Award 'Hangover' Spoof With Jason Sudeikis, Taylor Lautner & Eva Mendes!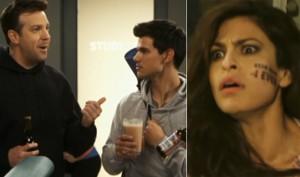 The 2011 MTV Movie Awards opened up with a hilarious pre-taped spoof last night led by host Jason Sudeikis. The concept? A parody of The Hangover Part II that incorporated some the year's biggest movies and some eye candy with young Hollywood stud Taylor Lautner and big-screen siren Eva Mendes.
In the Hangover parody, Jason happens to lose Taylor before the awards show after having a drinking binge with actor Justin Bartha.
Article continues below advertisement
Jason wakes up in a grimy hotel room, to find Eva Mendes in a bathtub with a facial tattoo reading "Team Jacob 4 Ever."
"Team Jacob forever...what the f***," Eva screams as she examines her new ink in the mirror. "I'm Team Edward. I've always been Team Edward."
He calls Chelsea Handler — who hosted the 2010 MTV Video Music Awards — for help, but she is busy sipping vodka and bossing people around.