NEWS
Watch Naomi Judd Admit Ashley Judd Was "Neglected" as a Child on 'The View'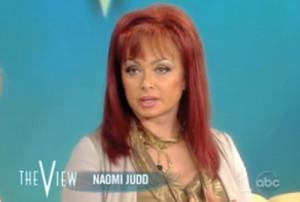 Naomi and Wynonna Judd stopped by The View today to promote their upcoming series The Judds — set to premiere on Oprah Winfrey's network OWN this Sunday. But the duo inevitably found themselves talking about something a little more personal as they addressed questions from Barbara Walters and the gang on Ashley Judd's new memoir, in which she claims she was neglected as a child and sexually abused.
Article continues below advertisement
"Do you feel that Ashley was neglected?" Barbara asked matriarch, Naomi.
OK! NEWS: WYNNONA ON ASHLEY JUDD MEMOIR — FAMILIES WILL HEAL ONCE YOU GET REAL
"In a way I do," Naomi answered candidly . "But, the thing I want to acknowledge is that I adore my daughter. These two girls and my husband, of course, Larry, are the joy of my life and I support Ashley."
"We're allowing each of us to have a voice. It's Ashley's turn," Wynonna chimed in, explaining that she and her mom will tell their side of the story when their show premieres. "We all have three different realities of the same car ride to the nightmares we were in."