NEWS
Watch Neil Patrick Harris Wrap Up Tony Awards With a Rap Recap!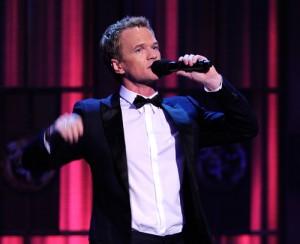 Neil Patrick Harris was spot-on last night as master of ceremonies for the 2011 Tony Awards! The host kept the audience amused as he sang, danced and battled it out with Hugh Jackman. He also closed out the Tonys with an impressive two-minute rap recap of all the night's festivities!
OK! GALLERY: HOLLYWOOD RUNS THE RED CARPET AT THE 2011 TONY AWARDS
But as he was busy hosting the annual award show celebrating the world of theater, he did not write the rap.
Article continues below advertisement
In the Heights collaborators Lin-Manuel Miranda and Tommy Kail wrote the clever tune during the ceremony!
"I write really fast," Miranda told the Wall Street Journal's Speakeasy blog."It was Neil's idea, he is fearless, and he pulled it out."
Watch the rap recap below!
Catch the full transcript of the rap, via New York Magazine, below.
We straightened things out in the opening number; Ellen Barkin and John Benjamin Hickey took home awards for their hilarious performances in The Normal Heart.
Daniel Radcliffe kicked some butt and we were so elated
Even Vodemort was sad he wasn't nominated
Norbert Leo Butz sang and danced and tried to catch you, comin' atchu
Chasing Trey and Casey cause they nabbed a Tony statue
Article continues below advertisement
Commencing in the Chattanooga station
from the grand imagination
of the Kander-Ebb collaboration
It takes a lot for a recipient to humble me
But everybody cried for gorgeous Nikki James, the bumblebee
Andrew Rannells sang "I Believe" and he landed it
So well now he's Mitt Romney's VP candidate
All across the country from the North and to the South
Are saying "Brooke's a hottie with a crazy potty mouth"
John Larroquette brought an elegant mood to the room
MORE ON:
Neil Patrick Harris
I'm still imagining him at home in his Fruit of the Looms
Spider-man and Mary-Jane gave us perspective here
They sang a ballad; we didn't need our protective gear
Patina Miller's nuns sang "Raise Your Voice" with cheer
And Memphis is relentless, they're performing every year
The Normal Heart won, Larry Kramer made us weep
And War Horse dazzled us with a theatrical sweep
Sutton Foster never lost her knack for talking smack and tapping a full-on assault attack,
Article continues below advertisement
I'm awesome, Hugh Jackman take that
Go ahead and roll the credits if you need to,
I'm out of control, I'm on a roll, this is my Tonys speed through
Anything Goes took the best revival prize in stride
We didn't see it, we were singing "Side by Side by Side"
McDormand loves her job, Sutton Foster won again
Paul Schaffer sang and suddenly it started raining men
Mark Rylance runs at fences, he's won the Tony twice
That guy can do it all, his follow-up is Fanny Bryce
Norbert Butz and Mormon swept the floor, won even more awards than War Horse
Par for the course, someone get a car for the horse
And in the final analysis what survives tonight?
Theater, because it's what we live
We're changing some lives tonight
And theater thrives because we live to give it, so to speak
This isn't reality TV, this is eight shows a week
Every chorus member that you saw tonight tappin'
Had to make miracles happen
For a chance to see you clappin'
And applauding in the audience
What's next? Who knows
Anything goes
Now go see a mother mumbled-ing Broadway show