NEWS
Watch Oprah Winfrey's Finale Sign Off: "It's Been All Sweet, No Bitter"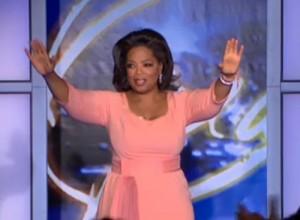 After 25 years on television, Oprah Winfrey has signed off from the TV stage for the last time. Yesterday, in front of a lucky audience of her fans and dear friends, The Oprah Winfrey Show aired for the final time and its host delivered a pure, emotional hour of reflection and hope for the future.
Oprah kept her composure as she delivered her last episode ever — after 4,561 days on the show.
Article continues below advertisement
At one point in her final hour of The Oprah Winfrey Show, she became choked up as she thanked her fans by saying, "From you, whose names I will never know, I learned what love is. You, and this show, have been the great love of my life."
She divided the hour into three segments: Her final entrance, where she reflected on her start in the industry with video footage, a segment where she revealed what she "knows for sure" and encouraged everyone to find their platform and passion in life, and her final goodbye, where she delivered a strong thank-you to her loyal fans.
During her final thank-you, she avoided the ugly cry, and delivered a strong message to her visibly emotional audience and the millions of fans at home watching.
"I've been asked many times during this farewell season, is ending the show bittersweet? Well, I say all sweet, no bitter," she said. "And here's why: Many of us have been together for 25 years. We have hooted and hollered together, had our 'AHA!' moments. We ugly cried together and we did our gratitude journals... I thank you all for your support and your trust in me. I thank you for sharing this yellow brick road of blessings."
Article continues below advertisement
Her final words: "I won't say goodbye, I'll just say until we meet again. To God be the glory."
At the end of her last speech, there was a standing ovation as Oprah walked through the audience, kissed her longtime partner Stedman Graham and waved goodbye one last time.
Also in the audience, Maria Shriver, Suze Orman, Tyler Perry, trainer Bob Greene and best friend Gayle King.
Catch clips below! Are you sad to see Oprah say goodbye? What will her next step be? Sound off in the comments!
Oprah Winfrey Takes the Stage for the Last Time
What Oprah Knows For Sure
Oprah's Finale Sign-Off