NEWS
Watch Osama bin Laden's Death Get the 'Saturday Night Live' Treatment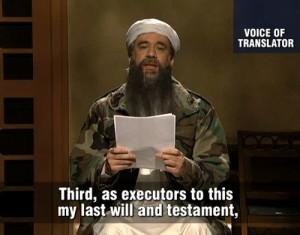 Article continues below advertisement
He also thanked the Pakistani intelligence community for being "solid, reliable people. One of the last people you can trust in this cruel, cynical world."
"Whatever you do, don't bury me at sea," he added. "I have a deathly fear of fish."
And the "Osama" theme carried throughout the show.
During a skit spoofing a hypothetical Republican presidential debate, Darrell Hammond as Donald Trump said that during the last episode of Celebrity Apprentice, "we finally killed Osama bin Laden. Boom, Osama, you're fired!"
And Seth Meyers also tackled Osama's death on the "Weekend Update" segment.
Seth's special guest was the Devil, played by Jason Sudeikis, who said he wasn't happy bin Laden was dead.
"I just don't want the guy — even Jeffrey Dahmer was like, 'Not in my backyard!' "
Seth jokes "somewhere, high above us, there are 72 bummed out virgins."