NEWS
Watch out for... Brooke Nevin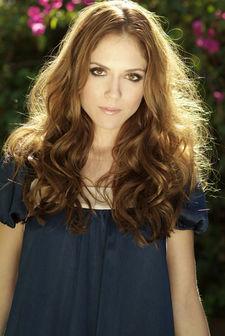 Ever since actress Brooke Nevin was a little girl in Toronto, she was enamored with the idea of being onscreen, whether it was TV or movies. After years of begging her mother, Brooke's persistence paid off when she scored a small part in a commercial for Honeycomb cereal.
"It didn't matter that no one could actually see my face," Brooke jokes to OK!. "Just that the commercial was going to be on TV and that I could say that somewhere in the indiscernible background, I was in it!"
Article continues below advertisement
Nowadays, you don't have to squint to see this Toronto Blue Jay fan in her role as Michelle Fields in The Comebacks alongside Matthew Lawrence and David Koechner. Coincidentally, this marks Brooke's second movie featuring the word "comeback" in the title! "It just keeps coming back," the recent L.A. resident, who also starred in Comeback Season, giggles. Speaking of comebacks, the star whom Brooke would love to see make a career turnaround is George Michael. "I want to see him have another chart-topping hit," she tells OK!.
With two more feature films set to be released and a guest role on Grey's Anatomy, Brooke has certainly been keeping busy. "I play a Pom Squad Captain on Grey's who is forced to ponder her future after a serious injury," she reveals, but when asked for further details about the mystery ailment, she replies coyly, "You'll have to watch the show!" As for hopes of being a regular on that hit series, she replies without any hesitation, "Hands down, yes!"
Article continues below advertisement
Well, perhaps that will be Brooke's wish as she blows out the candles on her 25th birthday cake on Dec. 22. And while many late-December kids would think being born so close to Christmas is a negative, Brooke has no complaints. "It's become a tradition that for every two Christmas carols sung, the family has to sing 'Happy Birthday' once," she explains to OK!. "And my family is quite a caroling bunch!"
So, how will Brooke celebrate her first quarter century? "By renting a car from Alamo without paying the underage fee!"
The Comebacks is in theaters now.
By Alisandra Puliti