NEWS
Watch Out For...O'Neal McKnight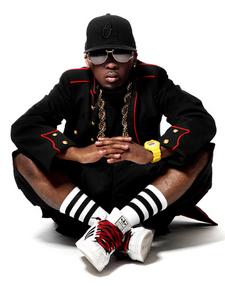 One look at O'Neal McKnight's killer dance moves and great fashion sense and it's hard to deny the feeling that you've seen the next big thing. Even while he was growing up in Lynchburg, South Carolina, family and friends often called upon him to be the entertainment at their gatherings. "A lot of kids, when they are asked to do something, get bashful," O'Neal tells OK!. "I loved people watching me."
Article continues below advertisement
After moving to the Big Apple in 1995 to work with his cousin Andre Harrell and later as a stylist for Diddy, the man who counts Michael Jackson as a source of his musical passion is finding himself increasingly in the spotlight. His first single, "Check Your Coat," is taking the nation by storm on the radio and in clubs, keeping people dancing into the early morning hours.
"I want to make people feel how the Thriller album made people feel," he says of his debut album, Prom 2088. "I want them to remember, 20 years from now, where they first heard my song."
O'Neal knows he'll never forget his first time. He was attending a party for June Ambrose's book Effortless Style when DJ Cassidy put it on. "All of a sudden, I heard my voice, and it made me shy," he recalls. "I felt like I was in my shower, and everybody was watching me." But after looking out at Jay Z, Busta Rhymes and other people he admired moving to his song, he realized, "I could do this."
He's making believers out of a growing group of fans. Even Kanye West called his song "dope" on his blog. "Kanye sending out that blog about me, it was as if the coolest kid in school asked me to sit at his lunch table."
Though dining with Kanye would be a lunch to remember, O'Neal, ever the ladies' man, wouldn't mind sharing a meal with Natalie Portman, Jessica Biel or Joy Bryant. "I think Natalie represents class, elegance and beauty," he says as the topic shifts to Hollywood gals. And as for Jessica, it's that body he can't resist. Of course, O'Neal is pretty irresistible himself.
By: Alisandra Puliti