NEWS
Watch Petra Nemcova Waltz to the Top With Tsunami Tribute on 'Dancing With the Stars'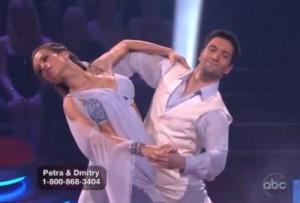 Petra Nemcova delivered a moving performance last night on Dancing With the Stars. The supermodel chose the song "You Raise Me Up" by Josh Groban because it gave her hope after the 2004 Indian Ocean earthquake and subsequent tsunami. During the tragic natural disaster, Petra was injured in Thailand and her then-fiancé, photographer Simon Atlee, was killed.
Petra explained that she chose the song because it gave her hope when she returned to Thailand for the first time in 2005.
Article continues below advertisement
"The song gave me the courage to start a foundation called the Happy Hearts Fund," Petra shared during rehearsal. "We rebuild schools after natural disasters."
"Through this dance I would like to share the hope and inspiration which I gathered from this song."
And Petra certainly inspired the judges.
"This season is my favorite because each week I think I know who will win and each week it changes, this week you are the one," Len Goodman shared of Petra's beautiful performance, in which she wore a beautiful, flowing lavender frock and danced through clouds, an allusion created by the smoke machines on the dance floor.
"A vision from heaven, danced like an angel. You're very beautiful but you're heart is even more beautiful," Bruno Tonioli praised.
Carrie Ann Inaba echoed a similar sentiment: "Your heart was all over the movement."
Petra scored a 25 out of 30, tying Hines Ward and Kym Johnson in the No. 1 spot.
OK! VIDEO: WATCH HINES WARD & KYM JOHNSON DELIVER A SEXY SAMBA ON DANCING WITH THE STARS!
"For me it was to share an inspirational message, share the story that has been a part of my life every single day since 2005," Petra shared after the show. "Sharing that message, that's what really makes my soul jump. That's what made me better on the dance floor."
Article continues below advertisement
Dmitri was very proud of his partner for her strength on and off the dance floor.
"With Petra what I have come to know is that she never concentrates on the bad side, she always find positive, and so the dance was the same," he told reporters after the show. "The dance was uplifting, giving the hand to people that are suffering."
"And you gave me the hand to become a dance," Petra chimed in.
"I was rising her up," Dmitri shared, as Petra quipped, "From being a clumsy elephant to being a butterfly."
So is Petra's conscious focus on the positive something she developed after the tsunami?
"I did it before too, and it is something from meditation and understanding that the positivity really helps you in your life and attracts positivity," she explained. "But after the experience I really focused more on the gift of every moment. I used to live in the future all the time, work work work! But that experience helped me to live in the moment and be present to help others."
Article continues below advertisement
And is it rubbing off on Dmitri?
"I call her the white swan and Mother Theresa because if someone needs her she's there. We were at this charity and she was talking to the girl and I said, c'mon we gotta go, we are late to rehearsals, so what does she do? She brings the girl to rehearsals with her! That's Petra."
Watch Petra's moving performance below! Do you think she has established herself as a frontrunner? Share your thoughts in the comments!