NEWS
Watch President Obama Confirm Osama Bin Laden is Dead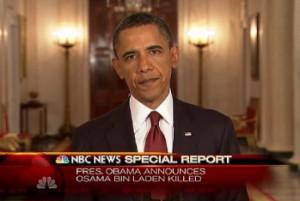 President Barack Obama made an address late last night to "the American people and to the world that the United States has conducted an operation that has killed Osama bin Laden, the leader of Al Qaeda and a terrorist who is responsible for the murder of thousands of innocent men, women and children."
OK! NEWS: PRESIDENT BARACK OBAMA ADDRESSES NATION — OSAMA BIN LADEN IS DEAD
From the White House, Obama gave a nine-minute address confirming Bin Laden, the mastermind behind the Sept. 11, 2001 terror attacks, was killed by U.S. forces in Pakistan.
Article continues below advertisement
According to NBC News, Bin Laden, who was 54, was shot in the left eye and killed after a gunbattle with Navy SEALs and CIA paramilitary forces in the city of Abbottabad.
He reportedly opened fire on the American forces before he was killed.
"Justice has been done," Obama said, adding, "His demise should be welcomed by all who believe in peace and human dignity."
Crowds gathered outside the White House to celebrate and reportedly sang "The Star-Spangled Banner" and "We Are the Champions."
Watch President Obama's address, below!