NEWS
Watch President Obama React to Seth Meyers' Innocent Osama bin Laden Crack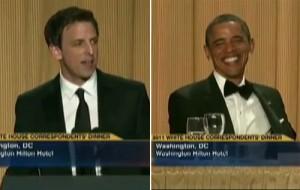 Seth Meyers didn't only mock Donald Trump at Saturday night's White House Correspondents' Dinner, but he also unknowingly made a well-timed crack about Osama bin Laden, to the amusement of President Barack Obama.
When Seth was knocking CSPAN, the network that broadcasts the annual dinner hosted by the president and first lady, he also slipped in a bizarrely topical joke about terrorist Osama bin Laden, whose death by U.S. forces was confirmed by the president last night.
Article continues below advertisement
Catch his reaction in the clip below.