NEWS
Watch Prince William & Kate Middleton Celebrate Canada Day in Their Red & White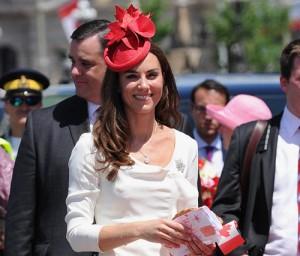 The Duke and Duchess of Cambridge are certainly showing their Canadian pride today! Prince William and Kate Middleton have invaded the country with their charm, and gave new Canadian citizens a big surprise today by swearing them in during their citizenship ceremony. They celebrated with millions of Canadians today on Parliament Hill in honor of Canada's 144th birthday!
The newlyweds have been very busy on their tour.
Article continues below advertisement
They attended the citizenship ceremony at the Museum of Civilization in Gastineau, Quebec during the second day of their North American visit.
OK! GALLERY: ROYAL COUPLE VISITS NATIONAL WAR MEMORIAL IN CANADA
To honor the couple, the Sons of Scotland band played bagpipes for their entrance, since the couple met as undergraduates at a St. Andrew's university in Scotland.
Kate sported a red hat with Canada's symbol, the maple leaf, paired with the white dress that she wore for her official engagement portrait.
William showed his allegiance with a red tie.
The Duke of Cambridge delivered a touching speech in honor of Canada and spoke at times in French.
He made sure to address Kate, sharing a very special moment.
"She heard about Canada not from her parents, but from her grandfather, a wonderful man who passed away last year," William said. "He held this country dear to his heart, for he trained in Alberta as a young pilot during the Second World War."
William called the festivities a "day of unity" noting, "Catherine and I especially are so thrilled and excited by the prospect of the next eight days of being part of the Canadian family. It will be an adventure that we'll never forget."
Watch Will's heartfelt speech and other highlights from the Duke and Duchess of Cambridge's Canada trip in the clips below!