NEWS
Watch Ralph Macchio Rise Above His Injuries on 'Dancing With the Stars'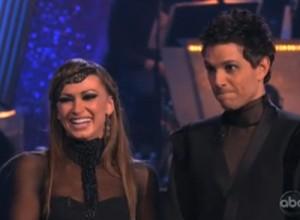 Ralph Macchio did not go into his Dancing With the Stars performances feeling confident on last night's show. As a result of a knee injury, Ralph and his pro partner Karina Smirnoff did not get enough practice time.
"At this point in a normal week, Ralph and I would have at least put in 40 hours of rehearsal already," Karina said during the rehearsal footage. "We've only done nine because of Ralph's leg injury."
Article continues below advertisement
OK! VIDEO: WATCH KIRSTIE ALLEY RECEIVE HER FIRST 10 ON DANCING WITH THE STARS!
Ralph suffered from a cyst rupture behind his knee, but he didn't let his injury stop him from hitting the dance floor and giving it his all.
Ralph seemed to limp to and from the judges, but held together during his routines.
"That spirit of Daniel LaRusso lives on tonight," judge Carrie Ann Inaba said to Ralph after his first dance, the Viennese Waltz. "Unfortunately we have to judge it as if you don't have an injury."
Bruno Tonioli shouted, "Credit to you," praising Ralph for continuing through the pain.
For their Instant Dance, Ralph and Karina took on the Cha Cha. He rested his knee in the green room in between performances, but it wasn't enough to reach a high score.
"I admire your perseverance and dedication," Len Goodman praised.
Article continues below advertisement
"The Cha Cha Cha is all about the passion, and because of the situation you couldn't do any," Bruno added.
Carrie Ann noticed a spark in Ralph, but also said his "hip action" wasn't there.
Unfortunately, Ralph landed at the bottom of the leader board with the overall lowest marks of the night — a combined total of 46 points for his two dances.
Ralph told reporters that he was close to throwing in the towel, but knew he had to move forward.
"I just sat there when it was the most painful and couldn't put any weight on it at all and I was just in denial," he said. "I was very upset, Saturday night. On the phone with the family frustrated. You wake up in the morning and just want it to be gone."
Do you think he did enough to win his fans? Is Ralph in jeopardy of elimination? Share your thoughts in the comments below.