NEWS
Watch Ramona Singer & Jill Zarin's Intense Catfight on 'Real Housewives of New York City'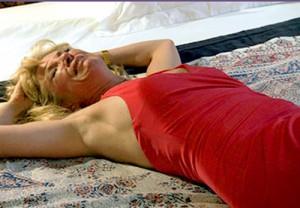 The tension building between Ramona Singer and Jill Zarin came to a head last night on The Real Housewives of New York City. The frenemies battled it out in a screaming, tear-filled showdown with issues stemming from way back when Bethenny Frankel was part of the show.
The girls are trying to enjoy a Sex and the City-esque vacation to Morocco, and Jill and Ramona decided to try to work through their issues.
Article continues below advertisement
This led to Jill screaming hysterically and Ramona moaning and groaning on her bed in a sob fest.
"What happened to my friend Ramona? You used to be such a nice girl," Jill asked.
Ramona's wide-eyed response: "I am nice."
Jill resents Ramona for not welcoming her on the last big Housewives trip to St. John last season, when she showed up with her husband Bobby Zarin in an attempt to make peace with former best friend Bethenny.
Ramona maintains she did nothing wrong, and should not be blamed for Jill and Bethenny's failed reconciliation.
Ramona is upset that Jill has called her a mental case in the past, questioning how her husband Mario could stay with someone like her.
Their catfight ended with Jill storming out and Ramona falling back on the bed crying and asking, "Why didn't she hear me?"
Both ladies turned to their blogs on Bravo to discuss their on-going feud.
Article continues below advertisement
"Let's get straight to 'Rameana,' " Jill began in her blog post, with a new nickname for her former friend. "Building up the courage to even talk to Ramona took a lot out of me. I have really tried to be a better listener and hoped to finally hear what I ever did to Ramona to make her act the way she does towards me. When she told me that she was holding on to a resentment about a sarcastic comment I made to someone at her renewal, honestly I was surprised. I could bring up lots of petty things she has said about me and to me, but in life you need to let the small stuff go."
Jill continued: "All I wanted from Ramona was an acknowledgement that she hurt me deeply and was sorry. That if she could redo that day on the island, she would have tried to help me make peace. I walked into the house that day holding Bobby's hand, with a smile on my face."
"I am sad to say, Ramona is truly mean and likes to put people down rather than build people up. (Look at the way she treated the young ladies she interviewed earlier this season) She is also a LIAR. She thinks if she says something people will automatically think it is true and sometimes they do. Honestly, I usually don't care about what she is talking about, nor do most of you, but recently she has questioned my honesty and integrity. That is where I draw the line and must respond."
Article continues below advertisement
Ramona also discussed her issues with Jill on her blog.
"I wanted so badly to make up with Jill, I really did. That is why, at the end of the fight, I flopped on my bed and was so devastated by the fact that she would not apologize or just own up to talking behind my back," she shared. "Yet, she wanted me to apologize about her not making up with Bethenny?!? This was beyond my comprehension."
"Jill could never say sorry. She was so full of anger and venom that the conversation was not going anywhere. I kept talking over her to bring the conversation back to just being about she and I. I tried to stay calm, but how is it my fault she did not make up with Bethenny? Jill won't even own the fact and take responsibility that it was she herself that caused the end of their friendship. She's blaming me?!?"
Watch their showdown in the clip, via TV Squad, below. Whose side are you on? Sound off in the comments!