NEWS
Watch Regis Philbin Make Osama/Obama Mix-Up While Talking About Viagra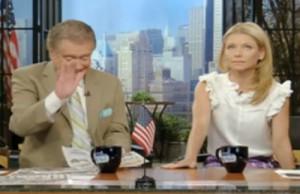 It has been happening all over the media, and Regis Philbin is the latest TV personality to fall victim to the Osama/Obama slipup. The context of Regis' blooper, however, is quite unique.
Yesterday, while discussing headline news with his co-host Kelly Ripa on Live With Regis and Kelly, Regis confused President Barack Obama and Osama bin Laden while discussing a story on herbal viagra, which was reportedly found in the terrorist's medicine cabinet at his compound in Pakistan.
Article continues below advertisement
OK! NEWS: MORE OSAMA/OBAMA MIX-UPS FLOOD THE MEDIA
"Look who else is taking Viagra," Regis proclaimed, showing a front page story from The New York Daily News. "Yeah. Obama."
"No, that's Osama," Kelly said, as she rolled her eyes.
"Obama," he flubbed again. "No, no! Osama! Osama! Excuse me, Mr. President. I'm sorry."
It's okay Regis — we forgive you!