NEWS
Watch Ryan Reynolds Help Jimmy Fallon in Goat Leg Greg's 'Jersey Shore' Skit!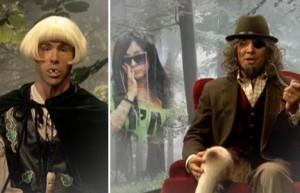 Jimmy Fallon forced Ryan Reynolds to help him with a "Pearls of Wisdom With Goat Leg Greg" skit on Late Night With Jimmy Fallon last night and put him in an even more ridiculous costume than his own to introduce limericks about The Jersey Shore.
OK! NEWS: RYAN REYNOLDS' DIVORCE DISCUSSED ON THE VIEW — "NOT GOING TO CRY AROUND YOU, BARBARA"
Ryan (aka Gilvin of the Tree) joined Jimmy (Goat Leg Greg) in reading limericks about the Jersey Shore in honor of the premiere for season four.
Article continues below advertisement
"It's as if you words hath given birth to themselves and raised them betwixt the Belgian bosoms of brilliance," Ryan said on Late Night of Jimmy's poems.
And we agree, they really were that good!
I knew a girl named Snooki
A vodka shot, she took it
She met a juice head
Then went to bed
With a pickle in her cookie
The Situation has a hairless chest
On that we can all agree
But underneath his boxer briefs
It's a hairy situation indeed