NEWS
Watch Sgt. Ray Lewis Ask Betty White to Marine Ball: "I Think We Can Laugh Together"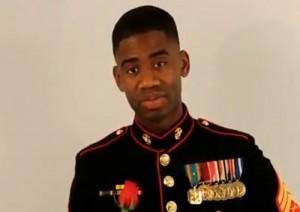 The Marine ball celeb invites keep coming. Friends With Benefits co-stars Mila Kunis and Justin Timberlake have already said yes to their sweet video invitations, and now it's Betty White's turn.
Sgt. Ray Lewis followed in his fellow Marine pals' footsteps and is the latest soldier to ask a celebrity to the Marine Corps Ball, via YouTube.
Sgt. Lewis stars off by demonstrating his strength and physical abilities as a Marine and then states his case on why the 89-year-old actress should attend the November gala with him.
Article continues below advertisement
"I would like to take Betty White. She's funny, she's sweet, she's mature. She's the all-around perfect woman," he gushes, adding,"I really think we'd have a good time. I'm fun, you know. … I think I can make her laugh. I think she can make me laugh. I think we can laugh together…
"It's going to be great. It's going to be a good time… So, call me!"
Sgt. Lewis even puts on his Marine regalia and holds a single red rose in the clip — how could Betty say no!
Do you think she will accept the invite? Are you getting tired of the Marine Ball celebrity guest list? Sound off in the comments.
Watch the video invite, via YouTube, below!