NEWS
Watch Shania Twain Tell 'Today' Her Divorce Damaged "My Vocal Power"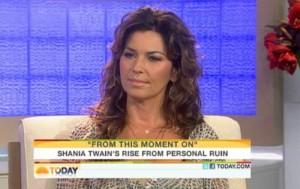 Shania Twain is usually a very private person, so the release of her new memoir, From This Moment On, that details a history of family abuse and divorce from her husband has come as a bit of a shock to her fans. So Today asked Shania why she had the sudden change of heart and decided to tell her side of the story.
OK! NEWS: SHANIA TWAIN DETAILS FAMILY ABUSE & SHOCKING DIVORCE IN NEW MEMOIR
"I would say it's a periodic change of heart in a sense," Shania told Meredith Vieira this morning on Today. "It's a phase I'm going through. It's a period of my life where I need to focus on that. I wouldn't say I will be an open book for the rest of my life and career, but it's something I feel I need to face head-on at the moment."
Article continues below advertisement
Shania's husband Mutt Lange left her in 2008 for her best friend, Marie-Anne Thiébaud, and it was difficult for Shania to pick up the pieces after.
"I started writing the autobiography," Shania said. "First of all, I started writing and obsessing about the break-up of my marriage. I couldn't get past it. When grief carries on too long into your second year, for example, you have to start looking a little bit at getting help. It's hard for me to reach out to others. I have to learn how to do it better. But I did turn to books and learning and doing research about grief and the death of love and life and those things. I started to realize that I was obsessing and I was stuck.
"So I thought, 'okay, writing is something I do naturally as a form of expression, but I need to start writing about something else and force myself into another subject. Why not start at the beginning of my life and write from there.' It put what I was obsessing about, the end of my marriage, into perspective as a portion of my life and not something that represented my entire life. So it was good to spread it out and put it into perspective in writing."
Article continues below advertisement
OK! NEWS: SHANIA TWAIN STALKER ARRESTED AT JUNO AWARDS
And Shania hopes to sing again soon.
"You will hear me sing again. Absolutely, I will sing again," Shania shared. "I love to sing. I have to get a grip on that because throughout my whole life all of these anxieties, fears and uncertainties have affected the muscles around my larynx. But to make a long story short it's interrupted my vocal power and expression."
"So I'm getting a grip on that through the whole process," she explained. "In fact, writing the book has been helpful. The television series has been helpful as well. Walking through it all as well. The self-therapy, throwing myself into, you know, healing and self-motivation."
Watch her interview below!