NEWS
Watch Snooki Inform Jeff Bridges on "DTF" Meaning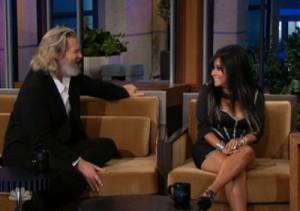 The Dude isn't up to speed with his Jersey Shore lingo. Jeff Bridges owns an Oscar, has an extensive film career and an album out, but he learned something new from reality star Nicole "Snooki" Polizzi last night on The Tonight Show With Jay Leno.
Snooki explained to Jay on the Tonight Show that during her fragrance making process, she originally tried to make her scent smell like pickles.
Article continues below advertisement
But it ended up smelling "like sh**" according the reality star.
So she developed a new plan of action.
"I wanted it flirty and bubbly like my personality, and obviously something DTF," she said.
Jeff, who was sitting next to Snooki during her interview, looked a bit confused until Jay taunted her to explain to the Oscar-winner what "DTF" stands for.
After she was granted permission to say it on air, Snooki blurted out "down to f***."
"How do you use that in a sentence?" Jeff quipped back.
Catch their priceless interaction in the clip below!