NEWS
Watch Sofia Vergara & David Beckham Sizzle for Diet Pepsi!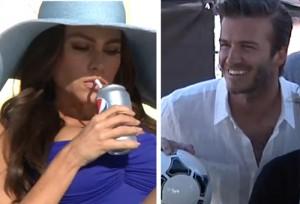 What's hotter than Sofia Vergara's Diet Pepsi ads? David Beckham joining Sofia on the Pepsi campaign! The Colombian beauty and British soccer stud team up in a new commercial for Diet Pepsi entitled "Beach Tweet." One thing's for sure — the beach has never been this HOT!
The hotly anticipated new ad was produced by acclaimed director McG — best known for his work in Charlie's Angels and Terminator Salvation.
Article continues below advertisement
In the commercial, the Modern Family actress is seen lounging on the beach in a dire thirst. The refreshment stand is too crowded, so Sofia decides to send a fake Twitter message that she is on the Santa Monica Pier and sees David Beckham.
Her single Tweet sets off a stampede in the sand, as fans desert the soda stand in search of the soccer stud. Sofia is finally able to get her Diet Pepsi drink, and as she lounges, David shows up running after his soccer ball!
"It was great working with David," Sofia gushes of their ad. "He was a natural. We had a lot of fun."
Sofia's on-screen career started 20 years ago with Pepsi, when she appeared in a Latin American commercial for the iconic brand.
Catch a behind-the-scenes look at Sofia and David's new commercial for Diet Pepsi in the clip below! For more on the campaign, visit Badertv.com/dietpepsi!