NEWS
Watch Stephen Colbert & Jimmy Fallon's Explosive Cover of Rebecca Black's "Friday"!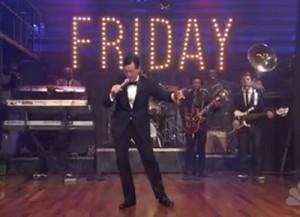 In case you missed it on Friday's episode of Late Night With Jimmy Fallon or have just watched the video for the tenth time, everyone is still buzzing about Stephen Colbert's energetic and engaging performance of Rebecca Black's "Friday." With host Jimmy Fallon at his side, along with the house band The Roots, American Idol alum Taylor Hicks and the Knicks City Dancers, Stephen's rendition of the YouTube hit gives a whole new meaning to "partyin', partyin'."
Article continues below advertisement
Jimmy made a promise to Stephen, his BFFSM (Best Friend For Six Months), that he would sing Rebecca "Friday" if they reached a goal of raising $26,000 for a charity, which of course they did, and boy are we happy about that!
The performance starts off with a very dapper, tuxedo-wearing Stephen crooning solo, but as soon as the lines "I see my friends" escape his lips, the curtains open to reveal The Roots who back him up with the ballad which very quickly picks up speed and brings out the energy.
Jimmy jumps in followed by Taylor and then the Knick's City Dancers help close out the performance.
Stephen and Jimmy then jump into the audience and lead them in a "partyin, partyin, partyin" fist pumping chant!
Complete with a confetti-flying finale, watch the energetic clip below — one of the best "Friday" covers we have ever seen!
We think Jimmy and Stephen's take on Rebecca's hit also blows Conan O'Brien's away! Which do you like better? Share your thoughts in the comments!