NEWS
Watch Taylor Lautner Jump Out of Moving Car in New 'Abduction' Clip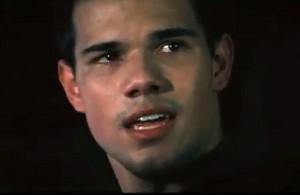 Taylor Lautner takes part in some high-flying stunts in the new action-packed thriller Abduction. A new clip from the film — landing Sept. 23 at the box office — shows the young Hollywood heartthrob and his co-star Lily Collins in a high speed chase.
In the edge-of-your-seat scene, Taylor and Lily must dive out of a moving car, driven by their co-star Sigourney Weaver.
Article continues below advertisement
Sigourney's character explains she is there to help them as she instructs Taylor to jump from out of her SUV while she speeds down the street.
In the October issue of Seventeen magazine, the 19-year-old actor gushes about working with Lily.
"You can feel some sort of chemistry or a connection when you are reading a script with someone for the first time. And that was totally the case with Lily," he explains.