NEWS
Watch 'Today Show' Anchor Al Roker Make a "Full Frontal" Blunder on Air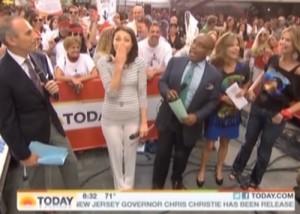 Live television got the best of Today show vet Al Roker Friday morning on the Today Show. What started off as a segment about a unique collection of old bowls featured on The Antiques Roadshow turned into a live-shot that was blocked by a Today stagehand and then led to Al making a verbal blunder (to Ann Curry's horror) on air! Confused? Watch the clip after the jump!
Al was introducing a segment, which was supposed to show off the valuable bowls for viewers at home to see. But stagehand Joe Tersi didn't know they were live and stepped in front of the shot.
Article continues below advertisement
And then the camera error became a verbal slip-up on Al's part.
When Matt Lauer asked Al for the weather update, Al was still talking distracted by the incident with the bowls.
"I'd like to see another shot of the back of Joe Tersi's head," he said. "That is fantastic. You should see him full frontal. Unbelievable!"
Ann couldn't control her gasp.