NEWS
Watch 'Toddlers & Tiaras' Star Savanna Cry Over Uncomfortable Hairpiece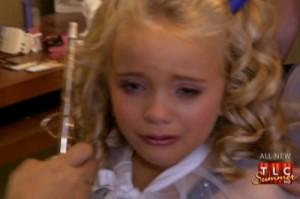 Toddlers & Tiaras star Savana had some serious difficulty prepping for her pageant on last night's episode of the hit TLC reality show. The pint-sized pageant queen was not too happy about the hairpiece she had to don for her competition and whimpered the whole time she was getting ready, much to the dismay of her pageant mom Shanna.
Savanna could not stop crying on last night's episode because the hairpiece she was wearing was irritating her head, but there was no time to fix it because she needed to be out on stage!
Article continues below advertisement
Her mom kept asking her if she wants to drop out of the pageant, but the teary-eyed little girl said no — as she didn't want to disappoint her mom.
So the little girl carried on with the show, despite her tears.
Catch the clip, via TV Squad, below!