NEWS
Watch Tom Hanks & His "Daughter" In 'Toddlers & Tiaras' Episode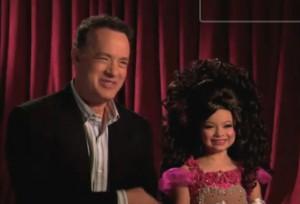 Tom Hanks shared a look at his upcoming episode on TLC's Toddlers & Tiaras with his daughter Sophie to Jimmy Kimmel on Jimmy Kimmel Live.
OK! VIDEO: WATCH LINDSAY LOHAN & JESSICA BIEL HUMP WITH JIMMY KIMMEL!
Okay, the episode isn't real, but it is really funny!
Tom and his "daughter" (played by actress Nikki Hahn) compete in the "Ultimate Sexy Baby Nevada" pageant, which Tom being the ultimate stage dad.
Article continues below advertisement