NEWS
Watch Tom Hanks & Julia Roberts Get Personal Playing 'The Newlywed Game'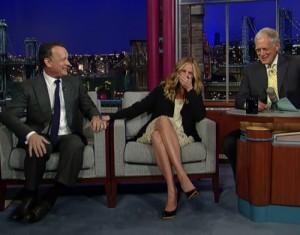 Julia Roberts was interrupted during her interview with David Letterman last night — by Tom Hanks! The Larry Crowne co-stars played an impromptu version of "The Newlywed Game" and shared some serious laughs on The Late Show With David Letterman.
When Dave asked Julia to take part in a quiz game, Tom came running in, yelling "Can I play? Can I play?" to the delight of the audience.
OK! VIDEO: WATCH TOM HANKS HILARIOUS IMPRESSION OF DIRECTOR RON HOWARD
Article continues below advertisement
The duo then took part in a hilarious version of "The Newlywed Game," and the questions got pretty personal, with Dave asking Julia to answer about Tom.
But of course the actor made it very difficult for Julia, as he didn't have accurate answers, rather his flashcards were to get a rise out of Julia and the audience.
He had the perfect punchline for every question, and took some pretty funny Jabs at Arnold Schwarzenegger's sex scandal.
When Dave asked Julia how many children Tom had, she accurately responded four, but his answer on his card was "I really don't know."
His response to what his last name used to be before his ancestors came through Ellis Island was "Hanksenegger."
When Dave asked who Tom considered to be the finest actor of his generation, Tom's answer on his card read "Tom Hanks!"
His favorite Julia Robert's movie — When Harry Met Sally (the 1989 rom-com starring Billy Crystal and Meg Ryan), which of course Julia was not in.
Catch the hilarious clip, via the Late Show, below!