NEWS
Watch Tracy Morgan Claim Donald Trump Has a "Little Black Boy With Blue Eyes"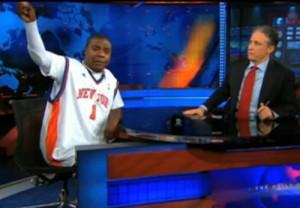 Donald Trump has gained a lot of attention with all of his birthism chatter, giving Jon Stewart a lot of material for The Daily Show. Last night one of Jon's bits involved the news that The Donald has sent investigators to Hawaii to look into Barack Obama's birth.
Guest Tracy Morgan had a lot to contribute when it was his turn to join Jon onstage.
Article continues below advertisement
He delivered a special message to Donald.
"I just want to reply to the Donald Trump thing," he said. "Donald, I got Obama's birth certificate. It ain't in Hawaii, it's in Brooklyn. Come and get it if you want to see it."
Tracy went on to claim that he had people investigating the mogul, and that his investigators uncovered something huge — Donald had fathered a child in Harlem who he doesn't acknowledge or support.
"Little black boy with blue eyes and hair that go like this," Tracy said describing Trump's illegitimate son. "Come see that boy. Come see that boy, Donald."
The Donald won't have Tracy's vote if he runs for president.
Catch the clip, via TV Squad, below!