NEWS
Watch the Trailer for 'The Great Gatsby,' Featuring New Music from Beyonce and Lana Del Rey!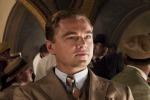 Article continues below advertisement
Extra points if you notice that Florence's song has a lyric about seeing the green light in someone's eyes. Anyone remember that hugely important symbolism from sophomore English? All of these songs and more will appear on The Great Gatsby's soundtrack. It also features songs by some guy named Jay-z, The xx, Jack White, and more. Whew!
Do you like the new version of the trailer? Do you think this soundtrack will be the first one you've bought in years? Are you a fan of Baz Luhrmann and his super stylish movies? Tell us in the comments below or tweet us at @OKMagazine.