NEWS
Watch Vienna Girardi & Jake Pavelka's Tumultuous Reunion on 'Bachelor Pad'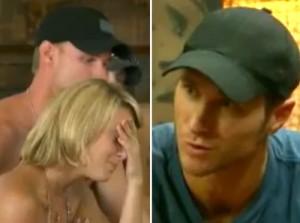 Bachelor Pad 2 should have been called "The Battle of the Exes," as the second season of the hit ABC reality show is centered around the drama between jilted ex-lovers Vienna Girardi and Jake Pavelka. Last night, the 33-year-old pilot came face-to-face with his former fiance Vienna, 25, and her new man, Kasey Kahl, 27 — and of course there were tears!
"It's a crazy experience being in the same room with your girlfriend's ex fiancé. He's snake-y," Kasey — the guy who got the "guard and protect your heart" rose tattoo on Ali Fedotowsky's season of The Bachelorette — said as soon as Jake entered the house on Monday's debut episode.
Article continues below advertisement
But Jake kept his cool (which seemed to be all a calculated play) and greeted Kasey with a goofy, "Hey! I know you. Fantastic!"
Kasey warns Vienna, and Jake is right behind him to greet her.
"You look nice and I met Kasey," he said to Vienna who is shivering whether from his presence or the cold.
And to hash out the issue even more, Jake and Kasey talk one-on-one.
"You guys really seem to make each other happy and that's really awesome," Jake told a rigid Kasey. "The last thing I want to do is get in the way of it. I'm all for it. I want you both to be happy."
But neither Vienna or Kasey are buying it, and she continued to declare Jake a monster.
Article continues below advertisement
And of course when it came to the couple's challenge — being suspended in air and locked in missionary position — Jake and his partner Jackie (from Brad's season) as well as Vienna and Kasey are the last to couple's left hanging.
Kasey had to let Vienna go, and she stormed away pissed off that Jake one the immunity.
With that immunity, Jake gives Vienna a rose — as an olive branch — to keep her safe and she started to sob.
He then pulled Kasey and Vienna aside to explain why he gave the rose.
"I never pictured myself giving you another rose in my life," Jake told Vienna. "I'm sorry I raised my voice to you on TV referring to their breakup special with Chris Harrison in 2010. It doesn't matter what happened — you just don't do that to people you love."
Article continues below advertisement
But Vienna's remained firm on her feelings of Jake.
"Jake Pavelka is a phony robot with no real feelings," she declared. "He's a monster, playing everyone like a fool."
And Kasey wasn't swayed either.
"I can't punch the guy, because I'll go home, but I'm mentally beating the crap out of him and it feels freakin' awesome!" he said.
At the end of last night's episode, Justin "Rated R" Rego and Alli Travis were eliminated from the show.
Watch Vienna and Jake's reunion in the clip, via Entertainment Tonight's YouTube channel, below! Do you think they will ever reconcile? Sound off in the comments.