NEWS
Watch What You Say About Toby Keith!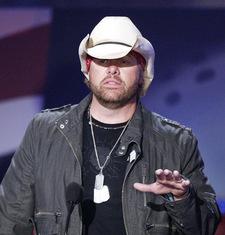 Word to the wise: Be careful what you write about country superstar Toby Keith. That's a lesson one unfortunate reporter learned on Sunday night in Las Vegas, when an irate Toby opened a can of verbal whoop-ass on him in public.
To give you a bit of back-story, actor/director/novelist Ethan Hawke recently wrote a story for Rolling Stone where he detailed an alleged confrontation between country legend Kris Kristofferson and an unidentified singer, who is quite obviously supposed to be Toby. And then the story got picked up in Nashville's Tennessean newspaper on Friday — a move that apparently hit too close to home for Keith, who took that anger with him into the press room at Sunday's Academy of Country Music Awards.
Article continues below advertisement
When Peter Cooper, the Tennessean reporter responsible for Friday's item, opened his mouth to ask Toby a question, there were more fireworks than the Fourth of July!
"You from The Tennessean? You wrote that article?" asked Toby of the reporter. "You thought that was funny — calling me Moby Teeth? You better watch yourself."
Witnesses inside the press room tell OK! that Cooper stumbled to answer the questions, but Toby just kept rolling attacking the writer for trying to paint him as the unnamed person in the original story.
"You thought you could dance around it — funny ha-ha – but it was me. Who else wrote a song about bombing enemies? Who else does car commercials?" As for the man behind the Rolling Stone item, he added, "You think Ethan Hawke knows me? You think Ethan Hawke can sing a chorus to one of my songs? Or one of my 62 million spins? Doubt it! So you took the story and you Moby Teethed it and took it to another level."
Article continues below advertisement
Attacking Cooper with endless streams of F-bombs, Toby pointed out that Kristofferson has come out in the singer's defense. "You think Kris Kristofferson motherf***d me? Kris Kristofferson said that sh** didn't happen. He e-mailed Rolling Stone and said that shit didn't happen. And you still wrote your story?
"Who supersized the story? You take credit for that?" he continued, grilling Cooper even more. "You and Ethan Hawke are guilty. He doesn't know me, that di*k didn't call me to ask me what I thought."
Refusing to let the issue die, he continued, "I'm struggling being here with you in the room. You ran it and took it to supersize French fries and now you have to answer for it."
Glaring at his prey, Toby declared, "You've never sh*t in your f-ing ass like you have right now. Do you want to ask me another question?" To which Cooper wisely shook his head "No."
Toby's tirade had the ACM press room at a standstill. "You could hear a pin drop," one witness tells OK!. "It looked like Toby was going to knock the crap out of Cooper, who looked horrified!"
And, according to another source, that was Toby's goal all along. The insider explains that the outspoken star had talked on Saturday night about looking forward to the chance to have it out with Cooper at the awards.
Looks like he got his wish.
By Wynter Mitchell