NEWS
Watch 'Wheel of Fortune' Contestant Guess Puzzle With Only One Letter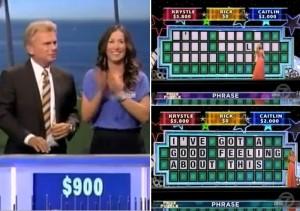 Wheel of Fortune contestant Caitlin Burke left veteran TV host Pat Sajak dumbfounded last week, when she correctly guessed the answer to a puzzle after only one letter was revealed by Vanna White.
Caitlin, 26, guessed the phrase "I've Got a Good Feeling About This," with only the letter "L"!
The New Jersey native works in NYC as a fashion magazine editor.
Her prize? A $6,500 trip to the Caribbean.
OK! GALLERY: STARS SUPPORT THEIR FRIEND'S AFI FEST PREMIERE OF ABEL
Article continues below advertisement
"I saw that it was a small word, so 'I've.' And I thought maybe "Got a Feeling About", so I've got a hunch." she explained to the shocked host.
"I said, '"I've Got A Good Feeling About This!"
"Oh, in that case it was easy!" a Pat replied.
Catch the clip below. Does anyone suspect a cheat?