NEWS
Watch 'X Factor' Contestant Drop His Pants on Stage, Cause Paula Abdul to (Almost) Vomit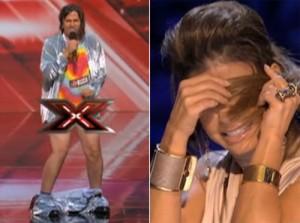 For the most part, The X Factor premiere was filled with inspirational stories and some stellar vocals, but of course there were the obligatory flops. One male performer dropped his pants mid performance, disgusting Paula Abdul so much, she had to walk away from the judges' panel to prevent herself from vomiting.
The streaker claimed to be a classically trained pianist and when he sang the lyrics "Let's get nude, don't be a prude," he pulled down his pants, jumping around the stage and flashing his man parts — which were covered by a big X — to the world as he repeatedly said, "I'm a stud."
Article continues below advertisement
"That was offensive, disgusting, distasteful, upsetting ... get him out of the building, please," L.A. Reid said sternly after the contestant's performance.
Paula actually ran off the stage, holding her mouth tightly closed to prevent herself from vomiting.
Catch the obscene moment in the clip below. Should it have been edited out?