NEWS
Watch Zoe Saldana Feel Up Chelsea Handler's "Amazing Rack"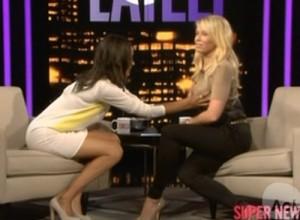 Zoe Saldana held nothing back last night during her appearance on Chelsea Lately. The Colombiana star was very aggressive, in a pretty hilarious way, as she admired host Chelsea Handler's chest and asked if she could cop a feel!
"Can I touch 'em?" she asked, and of course, Chelsea agreed.
"Yeah. They're real," Zoe confirmed. "They're really good."
Zoe also opened up about one of her favorite hobbies — going to a shooting range.
Article continues below advertisement
She talked about how men react when a woman comes in and confidently starts firing off rounds.
"All of a sudden, the range becomes really silent," she said, insinuating that she enjoys the male reaction as much as the shooting.
Catch the clip below!