NEWS
Watch Zooey Deschanel Get Stood Up in 'New Girl' Clip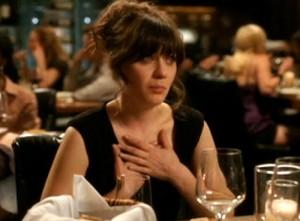 Zooey Deschanel captivated TV audiences last night in her hotly anticipated new Fox sitcom New Girl. The big screen star/singer seemed to live up to expectations, and scored some serious ratings for the network.
New Girl was seen by 10.1 million viewers at 9 p.m. — with a strong presence from adults in the 18-49 demographic, Entertainment Weekly reports.
Article continues below advertisement
Zooey's character is very likeable and on the premiere episode she settles in with her new male roommates. The guys help her get back out on the dating scene after a tumultuous breakup, but, unfortunately, she gets stood up on her first attempt.
But her adorable roommates ditch a party to go meet her at her date and sing some "(I've Had) The Time of My Life" to cheer her up.
Zooey seems very comfortable on the small screen.
"I really love that she's totally herself," Zooey told reporters recently during a conference call for the show. "Even though she's awkward at times and kind of nerdy at times, she's not afraid of being herself."
Catch a clip from last night's premiere below! Will you be tuning in next week?