NEWS
Watson, IBM's Super Computer, Gets a Beatdown on 'Conan'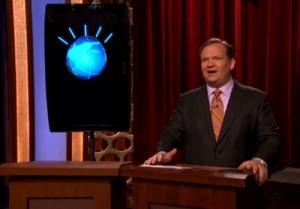 While Watson made human kind look like dummies on Jeopardy! last night, IBM's supercomputer is not impervious to physical harm. Watson stopped by Conan last night to try his hat at something that takes a little less brain power — announcing! Unfortunately, it didn't end well for IBM's creation.
Host Conan O'Brien was more than happy to feature Watson on the show.
Article continues below advertisement
"IBM wants to showcase some of Watson's other capabilities and they asked us if Watson could try being the announcer on our show and I said yes," the ginger comedian told the audience.
Unfortunately, veteran announcer Andy Richter wasn't happy about Watson taking his spot.
Watson continued to compliment Conan and embarrass Andy, pushing him over the edge to the point where he swings at Watson with a bat, and bashes him to pieces!
Catch the hilarious clip below!