NEWS
We The Kings Kick It With OK!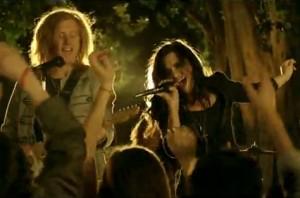 Up and coming pop band We The Kings came by to chat with OK! about being on tour this summer, their friendship with Demi Lovato and the Jonas Brothers and the last time they were star struck!
OK! GALLERY: THE STARS STEP OUT FOR TEEN CHOICE AWARDS
How was it being on warped tour this summer?
Travis Clark (lead singer): It was awesome because we were one of the headliners on warped tour. We played main stage and we always had hundreds and thousands of people. We never expected that our band would get to that level. It was really awesome for us to look out in the crowd with all these people singing every lyric, not just what we put out to radio, but every song.
Article continues below advertisement
Who did you guys hang out with the most on tour?
Hunter Thomsen (lead guitarist): We hung out with All-American Rejects a lot. The Sum 41 dudes. We hung out with them a couple nights.
Travis: One of our good friends who was on the tour, kind of a different style of music was Mike Posner. He is totally just the coolest dude. He was singing on stage with us.
Hunter: We're both like huge fans – like he's a huge fan of us and we're a huge fan of him.
Travis: We liked the way it worked. It's just awesome.
OK! GALLERY: THE JONAS BROTHERS & DEMI LOVATO ROCK OUT IN NYC
You guys are good friends with Demi Lovato (they collaborated on a song together —"We'll Be A Dream"). Any funny stories about her?
Hunter: The performance where we played at House of Blues in L.A., she hadn't sang with us in awhile and she came out on stage and she forgot the lyrics. It was pretty funny and she was using my microphone so I could hear the whole thing.
Article continues below advertisement
Travis: She only messed up like two words. We thought it was funny.
OK! NEWS: DEMI LOVATO ON JOE JONAS — "WE'RE BACK TO BEING BEST FRIENDS"
You're also friends with the Jonas Brothers.
Travis: Yea, they've been to a bunch of shows as well. We just have mutual respect for each other. For the music they do and for being able to tour.
I went to the Nick Jonas and the Administration show in Boston, he invited me out, his band was INCREDIBLE. It was an awesome, it was an awesome show. I was just backstage watching so I wasn't even where like the sound quality would be the best, but it was just awesome from where I was standing.
OK! VIDEO: JONAS BROTHERS & DEMI LOVATO SERENADE NYC
When was the last time you guys were starstruck?
Hunter: A couple years ago we were on tour with Cobra Starship and I walked on their bus and Robin Williams was sitting on their bus playing video games. I was like, is this really happening right now?
Travis: He played us in video games 'cause his daughter, Zelda was a fan of the tour. So she came out and Robin Williams was like just pretty much talking about the game. It was amazing, he's such a funny dude. Such a nice guy. It's cool when you meet somebody that you've looked up to or thought of them as an influence or as a role model and then they're actually that person when you meet them in real life. It makes it that much more special.
Hunter: We were just at the Teen Choice Awards in LA and we got to meet David Beckham it was really cool. As I said, we really like soccer a lot. His kids were really cute, he brought those little ones out.
We The Kings is currently touring colleges around the country! Check them out at myspace.com/wethekings.
By Rachel Levine