NEWS
Weapons Update From Pitkin County Police Regarding Charlie Sheen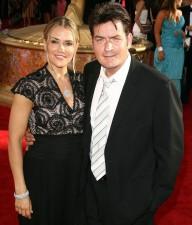 After learning that a weapon of some sort was involved in the domestic dispute between Charlie Sheen and Brooke Mueller on Friday, OK! spoke exclusively to Stephanie Desaro of the Pitkin County Police Department in Colo. regarding the nature of the charges.
"The weapon involved is part of the charge, and is defined as a Class 5 Felony Menacing," Desaro told OK! exclusively.
And although we still do not know what kind of a weapon was used in the attack, Desaro explains different possibilities.
Article continues below advertisement
With a, "weapon used to intimidate or threaten that could harm the victim," Stephanie reveals to OK! that it, "…could be a car, a knife, a gun, a fork, but what is key is that it is something used to cause fear."
Pending further investigation of the alleged dispute, the exact identification of the weapn can't be revealed as Desaro confirms to OK!, "We won't ID it until we look into it further."