NEWS
Wedding Bells for Russell Brand & Katy Perry?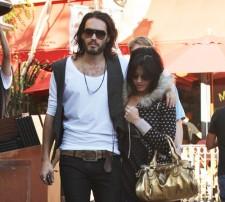 Now that Russell Brand might be making the big move to L.A. (he reportedly got his cat a passport), will he take the next step and join pop star girlfriend Katy Perry in wedded bliss? While Russell did not confirm upcoming nuptials, he did comment on the idea during an interview this morning with Britain's GMTV. ""Well, I don't know. Get married, you say? Hmm, that would be good, wouldn't it? I do want to have children. That'd be good."
Article continues below advertisement
Imagine a world with baby Russell's running around singing "I Kissed a Girl"!
Russell was chatty in the interview, and expressed his relief on finding a steady girlfriend. He and Katy cannot seem to get enough of each other.
"It was a deep craving within me — I mistook it for lust," he explained. "I thought I was promiscuous, but it turns out I was just thorough to get the right one. I'm ever so happy."
The comedian said monogamy has been good for him — worrying about just one lady is way easier than worrying about all the ladies.
"It's really nice and relaxing to not always be thinking like, say now for example, there's some ladies here I would have to do routine checks, wouldn't I normally? I'd be like, 'Look, I've got to get on now and talk to that makeup lady.'"