NEWS
Wedding Video with Brittany Murphy Stolen, Put on Craigslist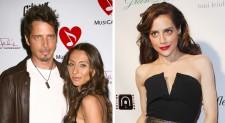 Rocker Chris Cornell is furious that the video of his wedding to wife Vicky Karayiannis was stolen because Brittany Murphy is featured in the tape as Vicky's maid of honor.
The video of Chris and Vicky's 2004 wedding was being offered on Craigslist as macabre "lost" footage of Brittany, the New York Post reports.
Chris has threatened to sue Craigslist, which has removed the video from sale now.
A source said, "The video features behind-the-scenes wedding moments, many of Brittany Murphy."
Article continues below advertisement
He argued that it's a federal crime because it's considered stolen copyright and asked Craigslist to hand over information of the seller.
But, Chris isn't letting this problem take is focus of his music.
On New Year's Eve, Chris Tweeted he's reuniting with Soundgarden writing, "The 12-year break is over & school is back in session . . . Knights of the Soundtable ride again!"