NEWS
Wednesday Night, Part 1: Butter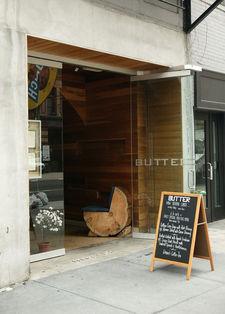 My friends Lisette and Brad started their own public relations company, Shadow PR, a few months ago and working away with a client list from Armani Exchange and Intermix to celebrity haunts like Butter and tenjune- and I've rarely seen them as of late in an environment that allowed for any interaction more than an air kiss. So, we decided to have a mellow night catching up over cocktails. But then we decided to invite just a couple of more people, then Lisette invited a few more and…It turned into a media mixer.
MORE ON:
Justin Timberlake
Article continues below advertisement
In the basement of Butter, a small space that for five years running has attracted any celebrity in town on a Monday night — from Justin Timberlake to Tiger Woods — the gossips all gossiped with each other. An OK! crew including Sarah Ivens, Rob Shuter and our American Culture Expert Bruce Littlefield were book-ended by Ben Widdicombe who pens the New York Daily News 'Gatecrasher' column and Bill Hoffman, a scribe from the New York Post's "Page Six." 'The Shadows' sat back proud as they watched a who's who of major New York media drink, laugh and share stories- some just skimming the surface as not to give too much away – and others too salacious to publish.