NEWS
Wednesday Night, Part 3: Befriending the NYPD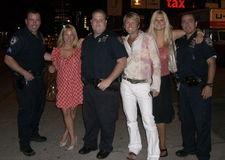 Last night I realized we often limit ourselves by the preconceptions we have of what other people may think of things we'd like to do- so we don't do them.
I spent my formative years in Houston, TX but moved to New York when I was 12. My parents were raised in New York and met while at NYU, my aunt, uncle, cousins, grandmother, all New York. Regardless of my early years, I'm a New Yorker. And, I've lived in Manhattan for the last seven years. Yet, I often times find myself doing things that could cause a person passing me on the street to mutter, 'tourist' – and that's not a term of endearment. I spend a lot of time wandering the streets of New York with my ipod on and no matter how many times I walk down the same street I still frequently see something new I'd never noticed before. So, I stop in the middle of the sidewalk as people are trying to buzz by and gaze up at the buildings in awe. Sometimes it's the sunset, or the shadow the sun's casting on a building at a certain time.
Article continues below advertisement
Sometime I even stop and take a picture! I don't understand why you have to be from somewhere else, 'a tourist,' to appreciate the beauty of New York?
Last night we were walking from The Box back to Butter half-trying to catch a cab and entirely unsuccessful in our effort. Just the moment when we finally did see a cab someone in our group decided to engage cops in a police van stopped at the light in front of us in conversation. They asked the cops if we could take a photo with them. Even the cops asked if we were tourists and 'how long are you in town.' We all live in New York. I like our photo, and our new friends – and contrary to the glances we got on the street that night- we didn't even have to be tourists to find them.