NEWS
Wednesday Night TV Roundup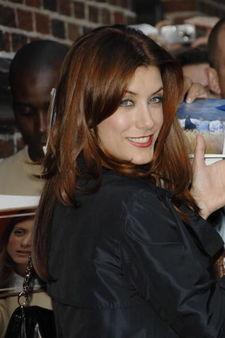 The TV Fanatic and OK!'s Joyce Eng and Derek Ivie break down your fave shows!
Private Practice: "OK, what kind of medical care has Rebecca's mom been getting her all these years? The girl's suffering with a mysterious stomach ailment that made her not eat; Mommy Dearest blames it on Munchausen syndrome and puts her in the psych ward. Thank god Addison was feeling maternal and kept searching for whatever was ailing the mom-to-be, or they would have never discovered that Rebecca has Crohn's Disease! While no one in office seems to be getting any whoopee, all their patients are. Sex at 70? You go Sylvie! Cami, the new wife of Violet's ex, comes into the office to deal with a bladder infection caused by too much time in the sack. Violet's obsessed with knowing her condition, and Cooper and Naomi remind her of boundaries. Uh, Cami should have known her boundaries, and the doorway of Oceanside Wellness Center was one she shouldn't have crossed. It was empty vindication when she told Violet that her ex still talks about her. Then why didn't Violet score the ring! Poor Michael. I knew he had a crush on a boy before it was revealed. Cooper was cool with him, telling him he has many years to find someone who will love him back as he is. Now man up Cooper, and tell Violet you love her cause the internet will only get you so far. And Sam, your right, bald is beautiful. If the Arm and Hammer man had a head, I'm sure it would be shaved to perfection!" – TV Fanatic
Article continues below advertisement
Gossip Girl: "Did you squee? Oh, you know what I'm talking about. The kiss! I felt like I was 16 again – which, trust me, wasn't that long ago – watching that...except I never had Penn Badgley's tongue down my throat at that age. Penn and Blake Lively have amazing chemistry and that definitely came through last night. The clichéd "Let me try to impress you even though that's not what you want" restaurant dinner aside, Dan and Serena's date was uber-cute. Him teaching her pool was done with just the right dose of billiard instruction and sexual tension, only to be broken by the awesomely adorable "something's vibrating in your pants and I really hope it's your cell phone." It will be fun to see where this goes next week with Nate's revelation that he's still into S. Golden Boy and the Ascot Mascot were MIA and I honestly didn't miss them with the other two equally interesting plots. Exes and hottie parents Rufus and Lily getting their pasta on was actually believable, and for the first time, Lily didn't grate. Then there's the Queen B and the heir to the throne. First off, I really got the short end of the stick with my sleepovers. But then, I'm glad I didn't have to be subjected to Blair's Truth or Dare hazing – I don't think I would have been as quick on my feet as Jenny was after the break-in. Just when I thought she was down for the count, she displays some dazzling cunning wit. I'm glad they didn't have her get in deep doo-doo for that, which would've have been even more prosaic than the aforementioned hoity-toity dinner. And telling off B at the end? Brilliant. Little Humphrey is on fire! What makes the exchange even better is that Blair appreciates Jenny's newfound cojones. But the ballsiest part of the ep? B's lipstick-smeared, drugged out diversion at the Ostroff Center – 'All the pams. Really, I don't discriminate!'" – Joyce
America's Next Top Model: "This week was the week of insecurity. The girls aren't taking the criticism so well and feel that they need to correct their mistakes. Lisa is insecure about her body, and the other girls don't like because she's a stripper. First they don't like Heather, now they don't like Lisa. They are bad news! At the challenge they have to emote as they are lifted high above the ice! Benny Ninja is there screaming joy, sorrow, or anger at the girls as they are hoisted in the air! Most looked crazy, but Lisa won and shot an ad with Dani, winner of Cycle 6, for Seventeen Magazine. The photo shoot is upon us and they are on a roof posing as 'fashion gargoyles!' Ambreal almost loses it because she is afraid of heights. Meanwhile, they are nowhere near the edge... drama! Judging! The bottom two are Ambreal and Janet who earlier proclaimed herself the mother of the house. Unfortunately she just didn't come across as "model." In reality her hair was black and her eyebrows were red. I don't get it Tyra!" – Derek
Line of the night? "Step away from the pee pee!" Cooper, Private Practice
What did you think of the night's lineup?